Punta Cana,
the amazing Coconut Coast!
Spanish

My first trip to Punta Cana was back in 1994. I went to Dominican Republic
not even knowing where that was. When I got there though, I took one
look at the beautiful turquoise waters and I was in Love...
My husband, my daughter and I have been on several
vacations to Bavaro Beach since then.
Gran Bahia Principe Punta Cana
Take a look at this photo gallery from our trip on July 2008.
We stayed at Gran Bahia Principe.
The coast is lined up with all inclusive resorts hiding behind tall,
beautiful coconut palm trees.
You can barely see these resorts unless you are really up close.
The reason for this is that hotels in Punta Cana can only be built as
high as the tallest palm tree. Pretty cool, isn't it?

Bavaro Beach is one of the nicest beaches. You can walk along
the shore for miles and it's so beautiful that you won't realize
how far you've gone, until you turn around to walk back to your resort!
Go to the Maps page to find the location of all inclusive resorts
and several cities in Dominican Republic.
Dominican Republic all inclusive vacations are truly the way
to go for a worry free family getaway. My family and I love the
fact that there's something to do for everyone.
And if you don't want to do anything, you can do that too!

Bavaro Beach
Here is my daughter doing just that!
When our daughter was younger she would go to the Kids Club for hours.
There is a kids club in every resort. They have plenty of activities planned
for the kids throughout the day every day.
And...you guessed right! My husband and I would be down at the
beach enjoying the peace and quiet or we would be at a swim up bar!
Now she is too old for the Kids Club -according to her- but she
always finds something to do. Boogie boarding and
making sand castles are her favorite so far.
Read reviews of Dominican Republic all inclusive resorts here.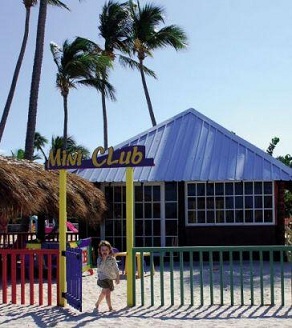 Snorkeling, Banana Boat Rides and much more...
Punta Cana has many excursion choices. You can go on a full day excursion or a half day tour. A half day tour can take anywhere between 3 to 5 hours.


We have done snorkeling excursions mainly. There are stands along the beach where you can purchase most of them.


The best way is to shop around. I always do. Never pay full price if you can avoid it!

Sales people are always walking around offering these excursions down at the beach. You can barter with them, don't be afraid to do so!

Keep in mind that all non-motorized water sports or activities are included in the all inclusive resorts. That is sailboats, catamarans, kayaks, boogie boards, etc. You just have to make reservations at the hotel's stand by the beach.

If you are interested in other kind of excursions like Safaris or local tourist attractions, there are several tour operating companies offering these excursions in the lobby of your resort.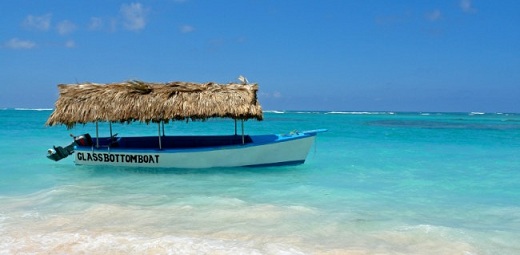 Para-sailing, banana boat rides, snorkeling, glass bottom
boat rides are fun things to keep the family busy.


---
 Return to Dominican Republic

 Go to Dominican Republic Beaches

 Go from Punta Cana to Dominican Republic Music
---
All content (including text, photographs and video) is copyrighted.